Celebrating Foundation Day at Stella Maris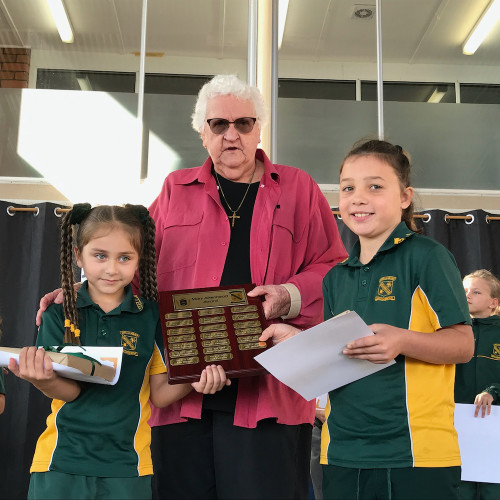 Our school community loves coming together to celebrate our Foundation Day – an event that commemorates the opening of Stella Maris on 20 May 1958. It was 63 years ago that Stella Maris Catholic School began with 46 children and two sisters of Charity.
In tradition, we celebrate each year with the story of Mary Aikenhead, the foundress of the Sisters of Charity and present a special award in her name. These awards are significant at Stella Maris as they acknowledge and celebrate the charism of the Sisters of Charity in developing the wonderful school that we all currently enjoy.
Sr Kerry presented the Mary Aikenhead Award to congratulate Eve P (K-2) and Mia I (3-6) for exhibiting qualities that reach out to those in need, applying themselves in Religious Education and displaying reverence during Mass and liturgies.
We were also fortunate to have Sr Genni and Sr Margaret from the Sisters of Charity visit and talk to the students. Past students shared their Stella experiences with the students, including Australian tennis player, Ellen Perez, who sent a video message as she was in Spain competing in the Tennis Open.
"I really enjoyed the outdoor Mass and the netball game between students and teachers," student, Bonnie J said.

"I was honoured to be nominated for the Mary Aikenhead Award I really enjoyed the netball game," fellow student, Nicholas P said.
Fr Joe celebrated our first outdoor Mass under the COLA, it was a beautiful and reverent experience. We also thank all the parents, grandparents, family and friends that joined us on this special day for the liturgy and Mass.
Foundation Day Photo Gallery