Compassion, support and a hot meal: Call for Vinnies Van volunteers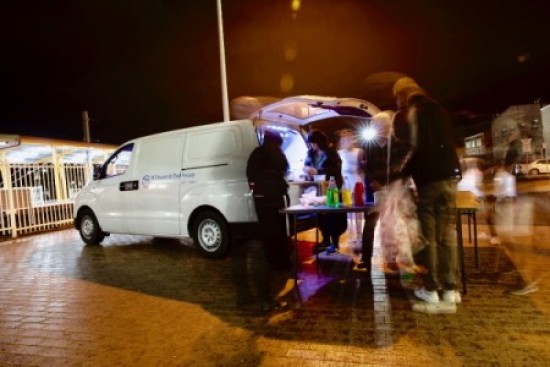 As times get tougher for those experiencing or at risk of homelessness in our region, the St Vincent de Paul Society is in need of more people to generously volunteer their time to help support our local Vinnies Van.
On any given night in Australia, 1 in 200 people are homeless. That's more than 116,000 Australians or 7,500 families – including over 17,000 children under 12 years old. In the Illawarra and Shoalhaven, the significant number of people faced with such disadvantage have their lives made slightly easier with a hot meal and support offered by the Diocese of Wollongong's Vinnies Van.
A joint initiative of the Catholic Education Diocese of Wollongong (CEDoW) and the St Vincent de Paul Society, the Vinnies Van has been providing food, essential supplies and social engagement for those in need since 2011, when CEDoW purchased the van for Vinnies to carry out this work.
Its positive impact has grown every year since, with the mobile unit now delivering more than 16,500 meals to local people per year. Finding something decent to eat is often a primary and recurring concern for those in situations of homelessness, so the Vinnies Van service is gratefully received, as it means a consistent source of food that struggling individuals and families can rely on.
Staying true to the Vinnies philosophy of 'offering a hand up, not a hand out', the Vinnies Van service also includes providing information and referrals for other support services available, as well as helping foster essential human connections. Arguably just as important as offering food and material supplies, by assisting those in need with compassion, support and a sense of community, volunteers are able to respect the visitors' dignity and offer a source of hope and companionship, while encouraging them to take control of their own destiny.
There are currently around 120 registered Vinnies Van volunteers in the Diocese, including over 12 teams of parents and staff from our Catholic schools and the Catholic Education Office.
Vinnies Van program coordinator, Kelly McCrohon, said the Vinnies Van goes out four nights a week to regular locations across the Illawarra and Shoalhaven to help people experiencing disadvantage – a service only made possible by those donating their time to help.
"Without our dedicated and capable volunteers, the van would not be able to operate. We are grateful for the time and energy they bring to the team, and would like to take this opportunity to send our heartfelt thanks for their contribution," Mrs McCrohon said.
"More volunteers are always needed and highly valued. We'd welcome those in the CEDoW and broader community to join our roster and once every month or two, help us provide these much-needed services to local people and families" – Kelly McCrohon, Vinnies Van program coordinator

---
WHAT DO THE VOLUNTEERS SAY?
We spoke to some of our CEDoW community about volunteering with the Vinnies Van and being a part of Vinnies' work to make a real difference to people's lives in our region. Their response was overwhelmingly positive:
Principal of St Brigid's Gwynneville, Kathy Uroda, said she would highly recommend volunteering for the van and encouraged anyone interested and with a few hours to spare to jump in and give it a go.
"As a leader in Catholic education, I was seeking a way to actively commit to working to support the dignity of each human person. I had the passion, energy and time to volunteer, but was nervous and a little unsure if I had the expertise. However, my first experience was awesome! The Vinnies Van has become a way for me to offer kindness, compassion and dignity to those in our area who are doing it tough" — Kathy Uroda, principal and Vinnies Van volunteer

CEDoW Education Officer and Psychologist, Ann Rovere, said volunteering is not just about sharing food, but also about sharing hope and conversation.
"Volunteering for the Vinnies Van provides me with the opportunity to put my faith into action and do something real in regard to living the Gospel message of giving service to others, especially the underprivileged. I've learned that given the same circumstances, many of us are only a few steps away from experiencing the same difficulties.
"There is a lot of satisfaction that comes from taking small steps towards social justice, simply by offering some time, encouragement and dignity. A real sense of community is built, both with fellow volunteers as well as with the people who visit the van, which makes the experience something I really look forward to. In the end, I find I get back so much more than is given!" — Ann Rovere, CEDoW Education Officer and Vinnies Van volunteer
Edmund Rice College parent, Ainsley Eckermann, said it's been a privilege to volunteer for the Vinnies Van and meet so many wonderful people involved the program.
"Through the van, I have had lovely chats with young families, elderly, babies, pregnant women, solo teens and single people of all ages in need of a hot meal. I've heard many personal accounts from people who have found themselves without a home, nowhere to cook and having a family to feed while experiencing things like serious illness, death of a loved one, addiction, loss of an income, loneliness, the break up of a family or mental health concerns.
"Volunteering for the Vinnies Van has been both fun and rewarding. It's taught me that difficult times don't discriminate – disaster can strike anyone at any moment. We never know when our own situation might cause us to seek help like this, and it is amazing to know that such support exists through the St. Vincent de Paul Society. The Illawarra is very lucky to have this service providing a regular beacon of hope to so many" — Ainsley Eckermann, parent and Vinnies Van volunteer
---
FAST FACTS ON THE VINNIES VAN
Interested in lending your time for this worthy cause? Some fast facts below...
WHAT DOES THE VINNIES VAN DO?
The Vinnies Van is a free mobile service for those experiencing or at risk of homelessness, marginalisation and social isolation.
The service provides warm, nutritious meals, fruit and drinks, as well as information and referrals to other community services and government agencies, and – importantly – support, compassion and a friendly face to those they assist.
Vinnies staff also help with any additional support needs, including providing warm clothes, blankets, bedding, toiletries and other resources.

WHO DOES THE VINNIES VAN ASSIST?
The Vinnies Van and its services are open to anyone in need. Locally, the van serves an average of 30-80 people each night.
Visitors are likely to come from a variety of situations of homelessness, disadvantage, marginalisation and social isolation, as well as people who are unemployed, doing it tough financially, or just finding it a challenge to keep their head above water.

WHERE DOES THE VINNIES VAN VISIT?
In the Diocese of Wollongong, the Vinnies Van service visits:
Warrawong Community Centre – 5.30pm, Mondays and Wednesdays

Wollongong Train Station (Gladstone Avenue side) – 6.30pm, Mondays & Wednesdays

Nowra (opposite the Gateway Caravan Park) – 5.30pm, Tuesdays

Bellambi Neighbourhood Centre – 5.30pm, Fridays

A TYPICAL SHIFT FOR A VOLUNTEER
Each team for a Vinnies Van shift is made up of 2-4 volunteers and 1-2 Vinnies staff.
A typical shift involves meeting at the Vinnies base – either in Coniston for the Illawarra shifts or at St John's Nowra for the Shoalhaven – to help with any last-minute preparation and packing the van.
The team then travels to their location to greet those gathered, serve hot meals, sandwiches, dessert and drinks to anyone who is seeking to use the Vinnies Van service.
After an hour or so of service, most volunteers help pack up the van and leave from site, or they can travel back to the Vinnies base to unpack the van and assist with further clean up.

VOLUNTEER REQUIREMENTS
Volunteers must be aged 18 years old and over.
Before beginning, all volunteers must complete a small induction training and safeguarding children training, and paperwork including a National Police Record Check and Working With Children Check.
Volunteers are put on a roster system with their team, equating to a commitment of roughly a few hours, once every one to two months.
For more information on how to volunteer for the Vinnies Van, please contact:
Email: vinniesvan@vinnies.org.au
Vinnies Van coordinator: 0476 532 002
General Enquiries: (02) 4228 8140
INTERESTED IN DONATING TO THE VINNIES VAN INSTEAD?
As well as parents and staff donating their time to volunteer on the van, our students and school communities also like to contribute by holding warm clothes, blankets or toiletries drives. These items are collected to donate to people in need who visit the Vinnies Van.
Businesses are also welcome to support the van – through their staff volunteering for shifts, and/or through financial donations or the offering of food, clothing or emergency supplies.
If you, your school community or your organisation or small business is interested in supporting the Vinnies Van with a contribution of funds, food or time, please contact Vinnies on 0476 532 002 or by emailing vinniesvan@vinnies.org.au


---
Did You Know: As one of Australia's largest and leading charities, the St Vincent de Paul Society has been assisting people experiencing disadvantage for more than 130 years! More information at www.vinnies.org.au