Mini Vinnies students raising funds and spreading love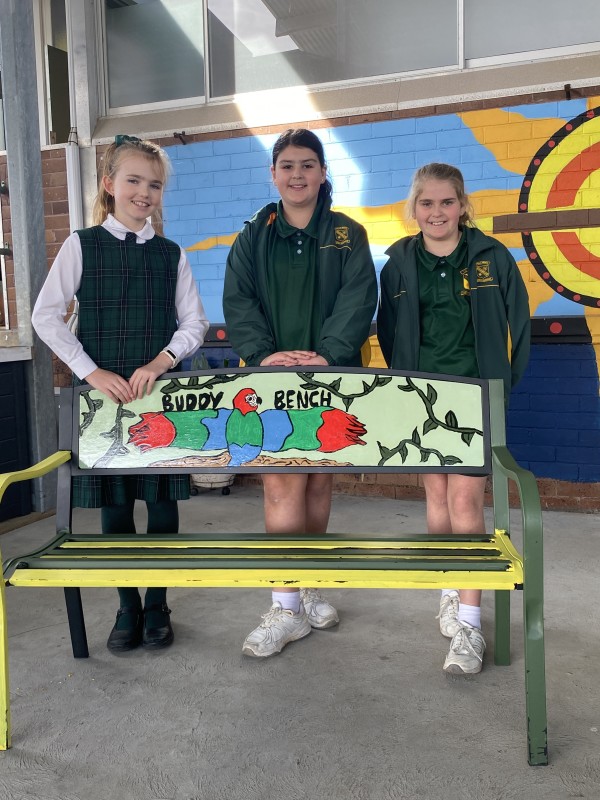 Our Mini Vinnies students have been working hard to raise funds, and spread awareness and love in our school community. Our Mini Vinnies program is based on the model of 'See, Think, Do' and it's generating some wonderful results for fellow students and those further abroad in the community too.

Friendship Seat Project
Earlier this year, our pastoral care worker, Mr Dodds, contacted Bunnings Shellharbour, to ask if they would consider donating a bench seat to Stella Maris. Within a week, he had a reply saying that they were happy to donate not one, but two bench seats!
We picked them up and got to work on coming up with designs we thought would reflect the purpose of the seats.
We needed artwork that was bright and attractive, to make the students feel welcome and to provide a space where they could come and go when they were feeling anxious, lonely, or just needed a place to be alone, or connect with others who were feeling the same way.
'Construction Day' was exciting, as we attempted to make sense of the instructions. But in the end we got there and ended up with two amazing benches for our playground. There was only one thing left to do - decide on the best two designs from all the creative suggestions put forward.
Students with winning designs were keen to tell us about their thinking behind their artwork, including Ruby V...
"I chose flowers to go on my bench design in bright colours because I feel bright colours bring happiness to peoples' lives, when you're feeling down you can sit with the flowers and appreciate nature. I think this bench is inviting to people and wil help them to feel better about themselves," — Ruby V
Fellow winner, Aerin L, enthusiastically spoke about her buddy bench design subject and the meaning it holds:
"I chose a parrot for my buddy bench design because firstly; parrots have bright coloured feathers, and sometimes, bright colours make people happy, and that's what we want at Stella Maris. Secondly, some of you might not know this, but parrots actually live in pairs! So if you're feeling lonely, you can go and pair up with Pete the Parrot!" — Aerin L
Cake Stall Fundraiser
This year, our school was eager to donate to an appeal that Bishop Brian Mascord had set up to raise money for the victims of the March 2022 floods. We decided to split our donations from our cake stall between the Bishop's Appeal and the Vinnies Winter Appeal. This is on top of what our school had already raised – a massive $1,300 for Project Compassion through the classroom boxes.
Stella Maris families sent in an overwhelming number of cakes, slices, biscuits and lollies. It was amazing to walk around the stall and see the work people had put into their designs, which reflected the theme of the appeal.
As a group Mini Vinnies challenged ourselves to break our previous fundraising record of $1,016, set in 2019.
We are proud to announce that we smashed the record and raised $1,240!
We are grateful for the generosity of the Stella Maris community and that the funds will go towards helping those who need it most this winter.
Find out more about our Mini Vinnies and other student-led social justice initiatives and fundraisers.
Mini Vinnies Photo Gallery