Student Mini Vinnies team raises funds and awareness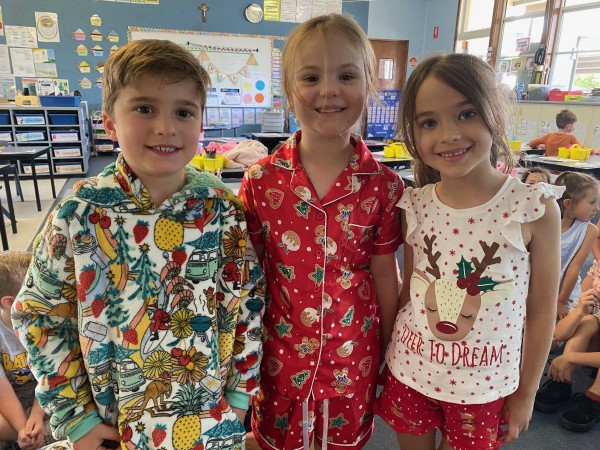 Our amazing student Mini Vinnies team, under guidance from Mr Dodds, have organised three wonderful school events to raise money and awareness for people in need.
The role of our Mini Vinnies group is to help people in need in our local community. Although fundraising is an important aspect it is also important to build an awareness of how to treat each other with dignity, respect and kindness.
Pyjama Day
Stella Maris students (and teachers) came to school dressed in pyjamas to raise awareness of poverty and to raise money for St Vincent de Paul to purchase pyjamas for those less fortunate than us.
The students loved coming to school in their pyjamas. They know how privileged they are to have ready access to clothing, and agreed that we should do the day again!
'Stella's Got Talent' Talent Quest
Stella Maris students were encouraged to come up with an act for our 'Stella's Got Talent' talent quest. Acts included singing, dancing, playing an instrument, comedy, magic, art, or anything else.
Due to COVID restrictions, the talent quest was held via video submissions by students. Students filmed themselves doing the act and sent in their video for the Mini Vinnies team to decide the top 3 winners.
One student said he enjoyed this format – he said that he would normally feel nervous in front of a live audience and would most likely not have participated but felt comfortable with recording his magic act at home.
20-cent Challenge
Stella Maris students brought in 20c coins to add them to a trail of coins snaking from the Maker Space room to our Year 6 classrooms.
Making the 20c snake trail also served as a fun Mathematics activity for the Mini Vinnies team, pictured below. They measured the average distance between the two rooms and came up with 90 metres, and also measured the diameter of a 20c coin.
Using this information, the students calculated that if 20c coins were placed in a snake touching each other, there would be room for 3,913 coins. This equates to $782 in 20c coins!
The aim of the activity was to have fun and see how far we could stretch the snake. Our students, staff and families' generous donations from the challenge went to the Vinnies Christmas Appeal.